Personal


Not Partisan

We're making health care transparent, personal, affordable, and accessible.
8,000,000+


Free2Care Advocates
About
Free2Care
Our coalition of physician and patient organizations and thought leaders believe that:
Health care is fundamentally about the physician/patient relationship.

Health care can be transformed through price transparency, access, and choice.

Health care is personal,

not partisan.
Sound like you?
Get Involved
Our Goals
Strengthening the physician/patient relationship drives everything we do. Period.
Openness. Competition.
Transparency.
Unmask the twisted economics of the American health care system.
Price discovery — prior to care — allows patients to shop for care in a competitive market. It empowers them with the information they need to reduce their healthcare costs. And it encourages providers and insurers to compete for their business.
Physician-Led

Care
Eliminate the middlemen.
Insurers, hospital systems, and regulators have a stranglehold on our system — preventing employers and patients from getting the care they need, when they need it, and at a price they can afford.
We're out to end that.
A
sensible

safety net.
Educate and elevate the forgotten.
Our impoverished and uninsured neighbors — especially those who are in desperate need of treatment for mental illness and those in our rural communities — deserve freedom from the fear of pre-existing conditions and help navigating our complex, poorly-performing system.
This is critical to our growth as a nation and is consistent with the physician's Hippocratic Oath.
A more direct path
forward.
Remove burdensome obstacles.
There's no shortage of wasteful organizations extracting resources from our health care system — and providing little value to doctors or patients.
Legacy groups that merely claim to advocate for physicians — coupled with the growing number of corporate entities intent on interfering in the doctor-patient relationship — have a new adversary in the ongoing war against the practice of medicine.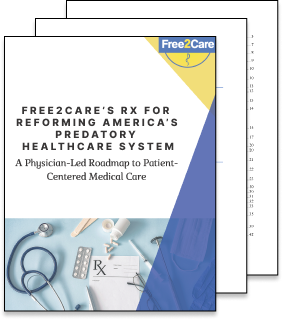 Want to go
more in-depth?
Read our full platform — Free2Care's Rx for Reforming America's Predatory Healthcare System: A Physician-Led Roadmap to Patient-Centered Medical Care
Download Now